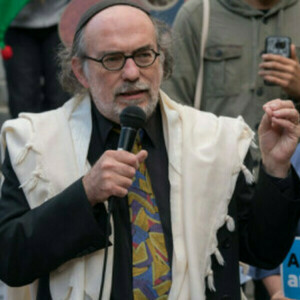 Rabbi Aryeh Cohen
Special guest
Rabbi Aryeh Cohen, PhD is Professor of Rabbinic Literature and a former chair of the Rabbinics Department in the Ziegler School of Rabbinic Studies. Dr. Cohen has created and taught most of the courses in the Rabbinics curriculum over the more than two decades of his affiliation with the Ziegler School. His research and scholarship sit at the intersection of Talmud, Jewish ethics, and social justice activism. This is present in his teaching, especially his senior seminar "Issues of Justice," a Project Based Learning course in which students have to develop advocacy-based in Jewish text on a social justice issue. His latest book Justice in the City: An Argument from the Sources of Rabbinic Judaism emerges from and articulates the same concerns.
Dr. Cohen is also the Rabbi in Residence at Bend the Arc: Jewish Action, a national social justice organization. In this role, he organizes the Jewish community around issues of immigration justice and restorative justice and mobilizes a multifaith community of clergy and laypeople to nonviolent direct action.
Dr. Cohen is a co-convener of the Black Jewish Justice Alliance (BJJA) and a member of Clergy for Black Lives. With Clergy for Black Lives, he co-organized one of the largest memorial demonstrations in Downtown Los Angeles after the murder of George Floyd.
Rabbi Aryeh Cohen has been a guest on 1 episode.
August 11th, 2021 | 58 mins 3 secs

In this class, Rabbi Aryeh Cohen discusses one of the pressing issues faced by our society today and the implciations for our community. Temple Beth Am occupies a large amount of real estate whose public face is welcoming to members and daveners (smiles and welcomes) and could be intimidating and unwelcoming (gates and security) to our unhoused neighbors. Is this a problem? Is it our Jewish problem? What can we do about it?

This class is part of Temple Beth Am's 2021 Elul Learning Series: (Re)Building our Home. The series includes classes on Shmita, Chevra Kadisha, Mental and Spiritual Health, Ritual Innovation, Combating Homelessness in our City, Torah learning, 20/30s Relationship Building and more. The series was organized by Beth Am Assistant Rabbi Rebecca Schatz who introduces Rabbi Cohen.

This class was conducted via Zoom on August 11, 2021